ST 100
Thru beam photoelectric security sensor with built in amplifier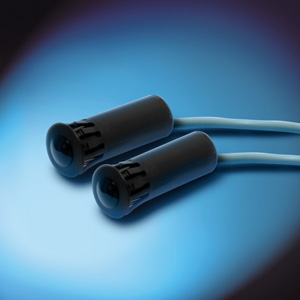 The ST 100 thru beam photoelectric sensor composed of miniature transmitter and receiver, stand alone and fully embedded amplified, is the best safety protection for automatic doors when assembly space is extremely reduced. Cable connection, snap-in on 13 mm holes with self-locking and particularly compact outer lens profile make easy and fast the installation in the elevator doors.

The operative range can be selected by a third wire on the transmitter that, if connected to earth, can double the photoelectric sensor nominal optical range.

The photoelectric sensor realized in ABS, with IP67 protection, is particularly immune from external light and electro-magnetic interferences, therefore it can be used in very hard environmental conditionsas well in outdoor applications.
Technical specificationsTop
Power supply 10-30 Vdc
Consumtion 25 mA
Selectable Max. range 5 – 10 m
Output 24 Vdc 100mA max.
Protection degree IP67
Light immunity 50.000 lux
Dimensions 12.5 x 45 mm
topConnections
Transmitter: + Vdc / Gnd (0V) / Range
Receiver: + Vdc / Gnd (0V) / OUT
How to orderTop
ST 100 NCNPN sensor with normally CLOSED output

ST 100 NO NPN sensor with normally OPEN output

ST 100 PC PNP sensor with normally CLOSED output

ST 100 POPNP sensor with normally OPEN output