RADIO KIT
Radio kit for remote calling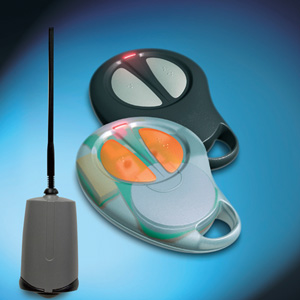 The Radio kit system is composed by one or more radio receivers with relay outputs that can be connected
in parallel to the button's kit of floor call and or to the panel keyboard inside the elevator's cabin and by
miniature hand-held 433 MHz radiotransmitter.

The remote controls are stored in the receiver with self-
teaching function.

The high level of immunity to radio interferences used in this technology, ensures a performing distance range in each using condition.

This system allows the remote control of elevators also for passengers with handicap.
Technical specifications Radio receiverTop
Power supply 12-24 Vdc
Consumption 50 mA
Radio range 100 m in aria libera / in open space
Protection degree IP 44
DimensionsTop

Receiver ConnectionsTop
+ Vdc / Gnd (0V) - Relay OUT (COM / N.C./N.O.)
How to order (31 users base)Top
BOX 11 Channel receiver for up to 31 users max
BOX 22 Channels receiver for up to 31 users max
MICRO 11 Channel receiver from 31 to 500 users
MICRO 22 Channels receiver from 31 to 500 users
TM 126126 Users Micro memory expander
TM 500500 Users Micro memory expander
TWIN R2 Channel radio Transmitter at 433 MHz
TWIN2 Channel radio transmitter with Proximity TAG inside