CRX 154
Cross beams light courtain for elevators and automatic doors conform to EN81-70
Thanks to a transmitter-receiver light courtain composed by 154 active coded infrared cross beams, the CRX154 allows the precise detection of objects or person crossing access and passage in conformity with EN81-70.

The compact section dimensions (thickness 9 mm) and the 2m. standard height make easy the installation on elevators, the working range is up to 3m. easy to align.

Product electronic is fully embedded, external control units are not necessary, synchronization is optically performed and an anti-vandalic function is active to automatically mask a beam.

NO and NC relay output available on cable connection. External 230Vac power supply box available on request.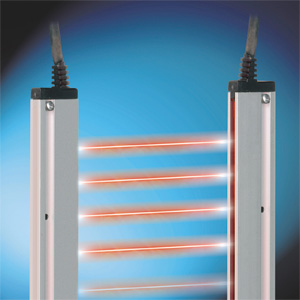 Technical specificationsTop
Power supply 10-30 Vdc
Consumtion 80 mA
Max. range 3 m
Typical resolution 25 mm
Relay output COM- NO-NC (0,5A – 24 Vdc max)
Protection degree P30
Norms EN81-70
DimensionsTop
Light courtain:Section 37x9 mm standard height 2000 mm, connection cable 0,5m (x2)
ConnectionsTop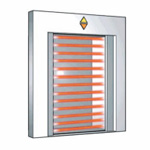 Transmitter : + Vdc / Gnd (0V)
Receiver :+ Vdc / Gnd (0V) – Relay OUT (COM / N.C./N.O.)
How to orderTop
CRX 154 Multi beam light courtain
CRX BOX External box for 230 Vac supply, dimensions 120x98x45mm